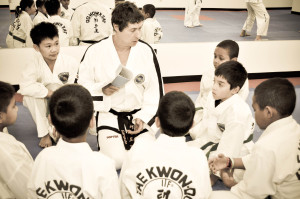 The head instructor at Jon Sun's Taekwon-Do is Mr. Rod Johnson. Mr. Johnson (or Mr. J) is an Internationality certified instructor,  6th degree Black Belt and a class A umpire. He has trained in Argentina, Spain, Wales, New Zealand, Jamaica and Canada.   He has umpired at World Championships all over the world and was  selected Canada's top umpire at the recent Canadian Championships.
Mr. J is  President of the International Taekwon-Do Federation of B.C. a 1500 member not-for-profit organization and the provincial governing body for ITF TKD in B.C.  http://www.itfofbc.com/
During the past twenty years Mr. Johnson has taught over 1200 students. He is a caring, inspiring and creative instructor who is committed to the success of his students.
"Thank you Mr. Johnson. The things you do for our kids are some of the most important things anyone will ever do for them."
Mr. N Boyden