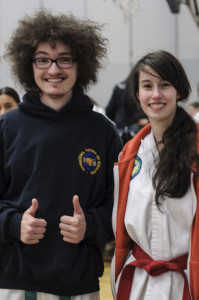 "Jon Sun's Taekwon-Do helps me believe in myself" 
Little Dragons (5-7)
Little Dragons is a special martial arts program filled with fun drills, street proofing discussions and lots of encouragement. Students are welcome to be themselves as they learn about:
team play – memory skills – good manners – listening skills – body awareness
Youth (7-12)
Taekwon-Do is a terrific after school activity. Our program reviews the three rules of concentration, street safety awareness, anti-bullying strategies and conflict resolution. The dojang is a great spot for students to im[prove fitness, make new friends while developing valuable life skills such as:
self esteem – confidence – focus – self-discipline – respect – goal setting – commitment – achievement
Adults
It's hard to get started but TKD is a blast and you will be  thrilled with the results. Imagine improved energy, better flexibility, more  strength, improved muscle tone, weight loss, increased motivation, increased confidence, self defence skills and a special spot you can go to relieve stress and maybe one day even become a Black Belt!
 "Since starting classes over a year ago at Jon Sun's Taekwon-Do. I have more strength, have better endurance, better posture and have lost 35 lb. I leave each class feeling relaxed, focused and with renewed energy. Joining JSTKD was one of the best decisions I have made in the last 10 year."